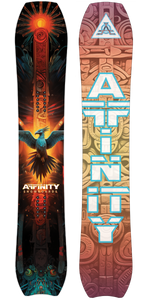 Description:

The Condor was born and bred high up in the mountains of Patagonia, designed with Freeride world tour rider Warren Doyle to conquer the most challenging terrain. Crafted with premium materials, this board is built to withstand the harshest conditions, making it an ideal choice for riders seeking epic big mountain runs. Its rugged construction ensures stability and control, even when charging through deep powder or navigating steep chutes.


The Condor's unique design offers exceptional performance for those who seek the thrill of the backcountry, providing the agility and precision needed to slay everything in your path. Whether it's carving through untouched powder, tackling moguls, or catching big air off natural features, the Condor is the ultimate companion for riders who live for the adventure and adrenaline of big mountain and back country riding.
Details:
Layup

-Flex: 8/10

-Shape: Directional

- Core: Poplar with tip fill for durability and stability

-Sidewalls: ABS for added durability and dampening

-Laminates: Triaxial glass, Innegra, and carbon Xs for power and stability

-Base: Extra thick 4001 sintered base with thicker edge for added durability.
Spec