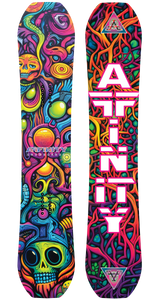 Imagine the pinnacle of snowboarding innovation embodied in a slopestyle board, meticulously engineered for the most daring riders. At its core lies the full camber design, a symphony of responsiveness and control that amplifies every twist and turn. This board thrives on precision, thanks to its arched profile that spans tip to tail, delivering unparalleled edge hold and explosive energy transfer. But it doesn't stop there—the integration of carbon in the tip and tail elevates performance to new heights. The carbon V in these key areas not only enhances stability but also amplifies the pop, enabling riders to catapult off ramps with unrivaled confidence.
Crafted for the gravity-defying stunts of slopestyle courses, this board boasts a beefier build that absorbs colossal jumps with ease. Its robust construction is tailored to withstand the punishing impacts of massive airs, ensuring a smooth and controlled landing each time. Moreover, the infusion of traditional camber amplifies its power, adding an extra dose of energy and snap to every maneuver. This amalgamation of full camber, carbon reinforcement, and a sturdy build creates a snowboard that not only dominates the slopes but also empowers riders to push their boundaries, enabling them to soar to greater heights and redefine what's possible on the mountain.


Product Details:
-Flex: 6.5

-Shape: True Twin - Freestyle Specific. Equal tip and tail lengths, symmetrical core profiling and flex, centered binding stance. 
-Core: Basswood / Poplar  for a light, poppy, and responsive ride
-Laminates: Triaxial Fiberglass for durability and torsional stiffness. Carbon V tip & tail for extra pop. 
-Sidewalls: Poured polyurethane for dampening and chatter reduction
-Base: Sintered - An industry standard, Provides a moderate balance between the speed created by a hard surface and good wax retention.
-Binding compatibility: 2 x 4
Product Specs: